Easy & Cute Apple Crafts for Kids to Create
We love doing apple activities For kids using real apples. It's a great way to sneak in a healthy snack!
Apple stamp crafts are so easy and fun for kids to make! This simple apple stamp tote bag takes just a few minutes to make.
Your child's teacher will love it all year long! Take a look at more awesome back to school craft ideas for kids.
As summer has ended and we are back to school. We love doing crafts in the afternoon, especially if it's raining outside.
What you'll need:
Blank canvas tote bag
Fabric markers
Craft paint
Apple
Pencil or chalk
You are here: Home / Crafts / Easy Apple Stamp Tote Bag Teacher Gift!
Easy Apple Stamp Tote Bag Teacher Gift!
As summer winds down, we're preparing to head back to school. We love doing crafts in the afternoon, especially if it's raining outside.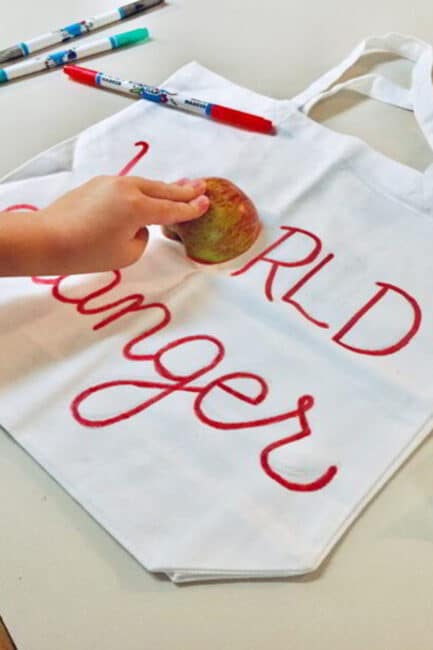 This simple apple stamp tote bag craft was perfect for keeping us busy.
Plus we know my son's teacher will love it when school starts back!
Want to give your child's teacher something homemade this year? This tote is the perfect gift!
For this apple stamp tote craft you'll need:
Blank canvas tote bag
Fabric markers
Craft paint
Apple
Pencil or chalk
Get Apple Stampin' with Your Your Kids
First, decide on your design. We chose to make our tote say "World Changer."
Teachers really do change the world. I can't wait to give this tote bag to my son's teacher this year!
Trace out your letters with pencil or chalk. You could also easily use stencils if you're not comfortable with your hand lettering skills.
Be sure to leave enough space for the apple wherever you'd like it in your design. We made the apple take the place of the "o" in "world."
Once your letters are traced, write them in permanently with fabric markers. You could also use a thin paintbrush and craft paint, but fabric markers make this step so easy!
Next, cut your apple in half. I blotted it with a paper towel to remove a bit of the moisture.
Then let your child paint the apple with craft paint.
Carefully stamp the apple in place on the canvas. Give it a good press, then lift it off.
Beautiful!
We decided our apple needed a stem and leaf, so I drew those in with more fabric markers.
All done! This simple apple stamp tote bag craft is perfect for a teacher's gift.
Just fill it with school supplies, and your child's teacher will love it!
Here's the Cliff Notes version of this project. 
WHAT YOU NEED:
Fabric Puffy Paint in red and green
Wax paper
Apple outline printable that you can download by filling in the form at the end of this post.
Tape
HOW YOU DO IT:
Print out a copy of the apple outline for each child.
Tape to work surface.
Cover the outline with wax paper, and tape the wax paper to the outline paper or work surface.
Trace all the lines with the fabric puffy paint.
Let dry, undisturbed, for 24 hours.
IMPORTANT: Let dry, undisturbed, for 24 hours. Yeah, I know. I said that already, but it is pretty important.
Carefully lift the apple from the wax paper, and place on a clean window.
Wallah! Amazingly beautiful and professional looking art!
Apple Chinese Lantern Style Art
Again, the short version of this project. 
WHAT YOU NEED:
Red, brown and green construction paper
Empty toilet paper roll or red card stock rolled and taped like a toilet paper roll
Tape, lots of it, or glue, like quick drying Tacky Glue.
Scissors
HOW YOU DO IT:
Wrap the toilet paper roll with red paper. Glue or tape down.
Cut oodles of red noodles: 5/8″ x 8 1/2″ strips of red constuction paper. The width cuts don't have to be precise. The length should be.
Tape or glue one end of a red strip to the toilet paper roll. Roll this end of the strip over your finger just a little to make a nice rounded curve. Leave the other end straight.
Fold a sharp crease 1/2″ from the other end of the red strip. Tape or glue to the bottom of the roll.
Do this to red strips till you get all the way around, overlapping each new strip over the existing one by about 1/4″.
Cut a red circle a little larger than the diameter of the toilet paper roll. Scrunch it up so it will fit inside the roll. Poke a hole in the center with a pencil.
Twist a piece of brown paper into a stem. Poke it through the hole in the red scrunch. Push it to the bottom of the roll, then glue or tape it to the side of the roll. Bend the top of the twisted paper to look like the stem of an apple, and cut to about 1 1/2″ from the top of the roll.
Cut leaves from green construction paper, and glue to the brown stem where it comes out of the red scrunch.
Up-Cycled Plastic Bottle Apple
Here's the short version of this project. 
WHAT YOU NEED:
2 clear plastic drink bottles, the kind that have bumps on the bottom
red cellophane or tissue paper
short found twig for a stem
green construction paper or felt for leaves
scissors, ice pick, glue
HOW YOU DO IT:
Cut off the bottoms of two bottles. Make one 3/4″ taller than the other. Poke a hole in the center of one of the bottoms for stem.
Pack red cellophane into one bottle, then place the other bottle on top, overlapping 3/4″.
Shake to get the cellophane to fill the whole apple.
Poke the twig/stem through the hole and glue in place.
Cut leaf shapes and glue to the stem.
These would be cute with a string tied to the stem and hung from a faux apple tree.
Alternate ideas: Fill them with goodies as a prize or gift for students. Or, place an electric tea light inside with a timer set for the dark hours, and hang in your garden. For this, you could paint the plastic bottle with red permanent marker instead of filling with cellophane.
Spiral Apple Peel – Scissors Practice
This craft teaches scissors control while making something fun. 
WHAT YOU NEED:
red, brown, yellow and green construction paper
child's scissors, glue
HOW YOU DO IT:
Cut the pieces to construct the apple: the red round apple, green leaves and brown stem. A fun option is to make the apple double sided, with red on one side and green or yellow on the other.
Glue the stem to the apple.
Begin at the stem, as shown, and begin "peeling" apple by cutting in a circle, one thin, long strip from outside to center of the apple. Glue the leaf to the stem.
Tack to ceiling and let the apple swirl down. This is where the two-colored apples will make their statement, as they twirl, showing both colors.
Little Apple Yarn Favors
You're going to love how different each of the apple yarn favors turns out! With every wrap of yarn, you just never know what wonky shape is going to be created. That's half the fun!
Supplies:
craft yarn – red, green, or yellow (the cheap yarn will do, $2 a skein)
pipe cleaners (or chenille stems) – brown and green
piece of cardboard – 2 in x 5 in
Instructions:
First find a piece of cardboard to help you with the winding. I tore off a piece from a box we had lying around. If you want a smaller apple, use a piece of cardboard that is 2 inches thick. Or if you want it a little larger, go 3 inches. I also bend my piece of cardboard in half a bit, just so it's easier to take the yarn off when it's done being wrapped.
Take your yarn color of choice and start wrapping it around your cardboard. We did ours almost 100 times around, so keep on winding!! Although I did wrap one apple only 80 times, and it looked just as good. The more you wrap, the thicker and tighter the apple looks. When you're done winding, then just cut your string off, letting it hang in place. It will get tucked away later.
Cut your brown piece of pipe cleaner in half and slip one through your winded up yarn. This is where the bent in half card board piece comes in handy. If your cardboard is bent, it's easier to slip the pipe cleaner through. Then twist up the end together, forming a stem for the top of the apple.
You now put the other cut half brown pipe cleaner through again and twist it up on the opposite end of the yarn, creating the round apple and looking like the little bottom end of an apple. Twist it up a ways, then cut off the pipe cleaner with scissors fairly close to the yarn and bend that end of wire in.
You can be done here or add a little leaf to the apple. With a 2 inch piece of green pipe cleaner, slip it under the top brown stem. Then bend in each half to look like 2 little leaves.
You're done. Now these little cute apples are ready for display. We're making a set of 8 for my daughters preschool as they're talking about apples this week!